Luckless Holly Embraces her Potential
with Playboy Finland September 2023 cover star Luckless Holly / @Lucklessholly
Photographer Victor Morales / @Victormoralesphoto
"My name is Luckless Holly and I'm a social media influencer and model in the adult industry. Recently I won an award at the XBIZ Maimi Awards 2023 for Rising Premium Social Media Star. I was born and raised in Florida and I'm now currently Located in Orlando Florida. In all my content I love to mix in my personality, so I want to make you laugh or smile to showcase my beauty inside and out."
---
Were you excited to shoot for Playboy? I was unbelievably excited when I learned I had the opportunity to shoot for Playboy. As a Model, I feel that's always a big goal to be on the cover of the iconic Playboy magazine cover. It's a pinch me is this real moment so to say the least I was super honored and excited.
What inspires you? It always inspires me to see people who came from horrible backgrounds and past traumatic events but choose to want more and continue to strive for better despite what happened. We all have struggles and difficulties but it's inspiring to see someone who chooses to not make an excuse of why they can't but then choose to have the strength to show they can and make it happen. I love to follow the underdogs of the world because nothing is more motivating than seeing the one the odds are all against prove everyone wrong and win.
What are some of your hobbies? I enjoy what I do, to be honest I have found a way to make my hobby my work successfully and it's a blessing. I've always been drawn to art, photography, videography, and music, and working on social media allows me to indulge in all my hobbies. Even from planning the content I get to choose the outfit, the makeup, the music, and the dance. I remember in high school I would edit photos for friends simply for fun. I was in TV production in high school and always enjoyed making silly videos and editing them together.
Name three things on your bucket list. Ride horses on the beach traveling to Italy. Traveling to Maldives in South Asia.
Turn-ons? Feeling loved, admired, praised, and laughs at my jokes.
Turn-offs? Controlling, clingy, Insecure, not goal-oriented, and selfish.
Describe to us your perfect date. The perfect date would be riding around listening to music grabbing some food and having some drinks and going roller skating or putt-putt golf.
What is your mantra? "Live life to the fullest tomorrow may never be" Shah Rukh Khan It's true life is not promised and every day we should live it like it's our last. If you are unhappy at that job make it your mission to find something that makes you happy, If you are unhappy in that relationship leave, If a friend or family member makes you feel less of a person cut them out and surround yourself with people that like you for you and are supportive, always take those risks because we only have one round of life and it's such a rewarding feeling doing it happy.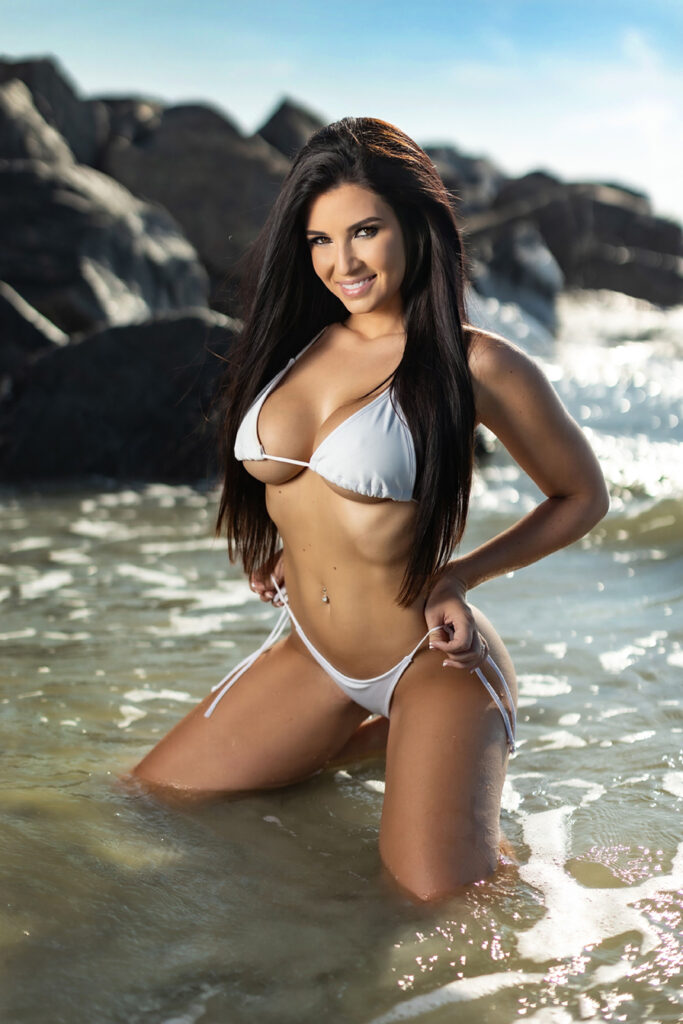 Describe yourself in three words. Strong. Ambitious. Creative.
What was it like starting out as a model? I was a little nervous starting out but with time that goes away, and it starts to feel second nature. You learn your best angles and poses along the way. The key is to be confident in front of the camera and the images will always come out amazing.
What would you consider to be your biggest challenge as a model so far? My biggest challenge as a model is time. I'm the star of the show and I can't duplicate myself to do the job for me so it's hard to manage beauty maintenance appointments, photoshoots, being a mom, and being a wife. Sometimes I surprise myself with everything I do but I'm a rockstar and make it happen.
Describe your perfect day off when you are not modeling. My perfect day off would have to be anywhere in the sun and close to the water. Just time to hear nothing but the waves of the ocean and to not worry or think of anything and relax. Also, a plus if there are yummy drinks and food involved.
Do you feel more like a city person or a country person? I feel like I'm the perfect mix of both. I need my morning Starbucks, favorite restaurants, and shopping I also enjoy not being around a bunch of people and the simplicity of no traffic. I enjoy being outdoors whether it's going to the beach or riding UTVs in the mud. I like what the city has to offer but I'm a country person at heart.
A guilty pleasure? My biggest guilty pleasure would have to be loaded cheese fries. I'm a sucker for some good cheese fries but it must be melted shredded cheese, not the sauce cheese lol.
Which song is absolutely certain to make you cry whenever you hear it? Butterfly Kisses by Bob Carlisle, it will bring me to tears every time. It was my father's song to me. My father passed away in 2021 so now it's a very sentimental song for me to hear. There isn't a day that goes by I don't miss and think about him, but I know he's looking over me so proud.