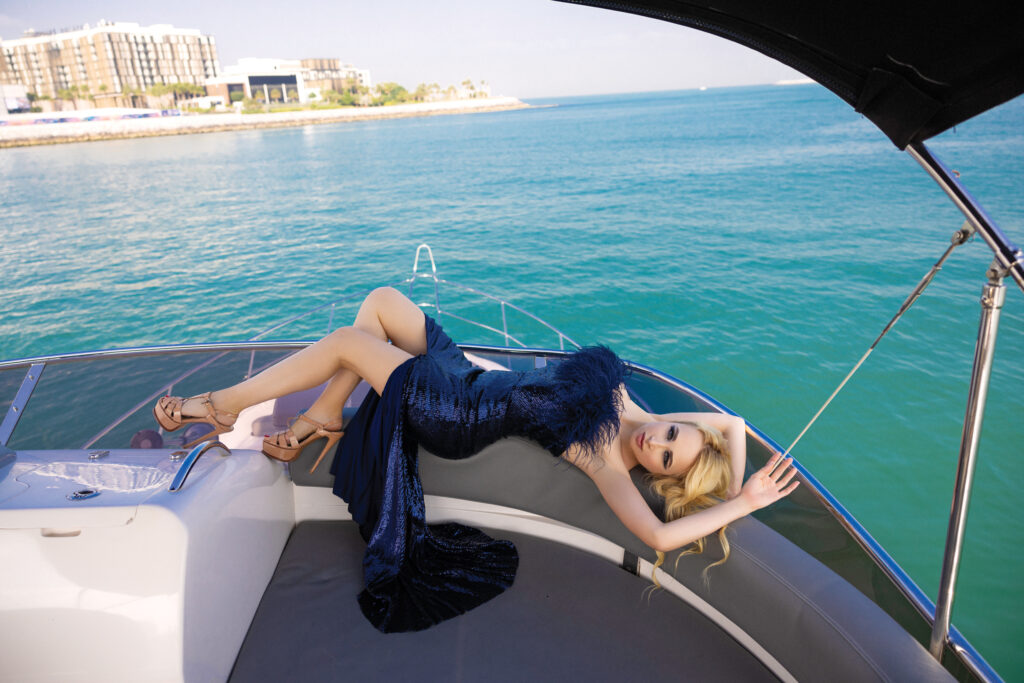 with Playboy Norway May 2023 cover star Alexa Mann / @thealexamann
Photography by Iya Shengeliya / @ya_shengelia_photographer
PR: Mariia Borovenska @mariborovenskaya
---
Looking at your social networks, you travel a lot and visit the most interesting places. Tell us which cities are your favorite, and where do they know how to arrange the most beautiful parties? Hello yes, it's true, I'm addicted to traveling, it's one of the most amazing things you can do, I speak 7 languages and love to practice them. My favorite destinations so far are Miami, St Barthes, French Riviera, Capri, Mykonos, Ibiza and UAE. All those places are well known for parties, top on my list would be Mykonos Miami and French Riviera, where people are free and open.
Imagine that you have 7 days of vacation that you need to spend as interesting as possible, what would you choose for yourself? I would choose a relaxed holiday in an exotic place with someone I love by my side, to feel the beauty of the place in more intense colors, my dream destination is Bora Bora, I still haven't been there.
If we talk about your profession as a model, what is the most difficult and interesting thing in your work? First, you always have to find a balance between work and rest, secondly, you have to be fit healthy, and look after yourself emotionally, physically, and spiritually because your looks reflect how you feel inside.
Tell us about photoshoot for Playboy Cover? The photo shoot was in UAE on the yacht in the famous Marina Harbour, with an amazing photographer and beautiful outfits, we had to shoot early morning before the Dubai sun gets so hot, so I had to wake up super early, but it was worth it.
Share the secret of how to stay so beautiful and feminine and at the same time combine a successful career? I practice meditation, exercise every day, eat healthy, keep my daily routine and sleeping schedule in check and most importantly I do what I love and I choose the people I deal with, not everyone gets to experience my energy, I protect it.
Let's talk about your education, what is your profession?  By profession I'm a linguist, I studied languages and literature followed by a master's degree in international relations, so I'm a globally educated hot beauty inside and within.
Have you ever taken part in a beauty contest? Yes 7 times, 3 times I take the crown so I'm a beauty queen x 3, something to tell my grandchildren about later.
Particular attention always belongs to your style, you have great taste, tell us who helps you with your outfits. Are there any designers you like the most? Mostly I style and direct photo shoots myself unless it's for a particular brand, I also choose brands I accept to work with based on how they match my style and philosophy, there are many amazing brands I worked with and constantly I collaborate with new ones, especially in fashion shows.
Do you have places of power that allow you to recover after a difficult work week? Absolutely, everyone should have them, I try to go into the mountains or close to the sea, sometimes a forest and stay there some time alone, in particular, I love Peru, a magical place where I connect with myself.
Can you talk about your favorite brands or fashion designers? My favorite brand is Chanel because it's classic and it makes a statement, for swimwear I like the God Save Queens they have very unique and stylish products.
Tell us about your dreams and plans, what does the girl who reflects the mood of the era want? Somehow all my dreams always come true, for now, I'll keep it a secret. What I can tell is I choose to live in balance emotionally spiritually and physically in all aspects of my life and that is a plan.