with Playboy Finland November 2022 cover star Elizabeth Chevalier / @marieechev
Photography by Mike Cohen / @mikecohenphotos
Agency LA Media
---
Elizabeth! Happy to have you on the cover of Playboy Finland! Can you tell us any new exciting projects you have in the works? Thank you, Love my Playboy family! So honored to be on this month's cover of Playboy Finland. I actually have a lot of new exciting projects! I recently just did a podcast with Michael Sartain you can find that on YouTube, I have two more covers coming out in the coming months as well as a billboard on Times Square! I will also be travelling a lot in 2023.
What do you do to seduce men? I am a huge flirt and oftentimes this gets me into trouble. I'm just confident and people are drawn to that energy and want to be around it. I am a huge romantic and when I want something I will do anything to get it including men.
Give me a list of things you currently love. Currently, I'm obsessed with traveling specifically airplane food lol. My new sex toy toys I just bought, kinder chocolate, ankle bracelets, reposado, and growing my other social platforms like Twitter and TikTok.
What is the sexiest lingerie you own? Oh yes, I have a baby blue and red latex nurse costume it is very kinky.
Have you ever had your heart broken? I have had my heart broken once and it was enough for me. I think everyone should fall blindly in love when they are young and trust your heart completely. When you do get your heart broken you rebuild yourself completely from scratch. You establish self-love and then you start attracting what you deserve.
We love the blue bikini for your Playmate cover shots in this issue! Who knew blue could be so sexy? Where was this shot? Awe thank you! Yes, we shot these in Bali Indonesia at Nusa Dua beach and the set we shot at night time in the villa's jacuzzi. I will never forget these beautiful memories!
We saw your Halloween costume this year was Marie Antoinette, would you say you enjoy dressing up and is Halloween your favorite holiday? Yes, for Halloween I like to go all out I'm usually dressed sexier, but I have always wanted to be Marie Antoinette. I went partying in Miami then took a red eye to Vegas for Halloween festivities it was a wild time. I also love to dress up in the bedroom.
What are we most likely to find you doing on your day off? Probably getting a massage, at Pilates, or just cuddling with my French bulldog Applesauce.
What are you looking for in a partner currently? I am looking for a partner that I can travel the world with and fall deeply in love. Someone who can be my best friend and mentor.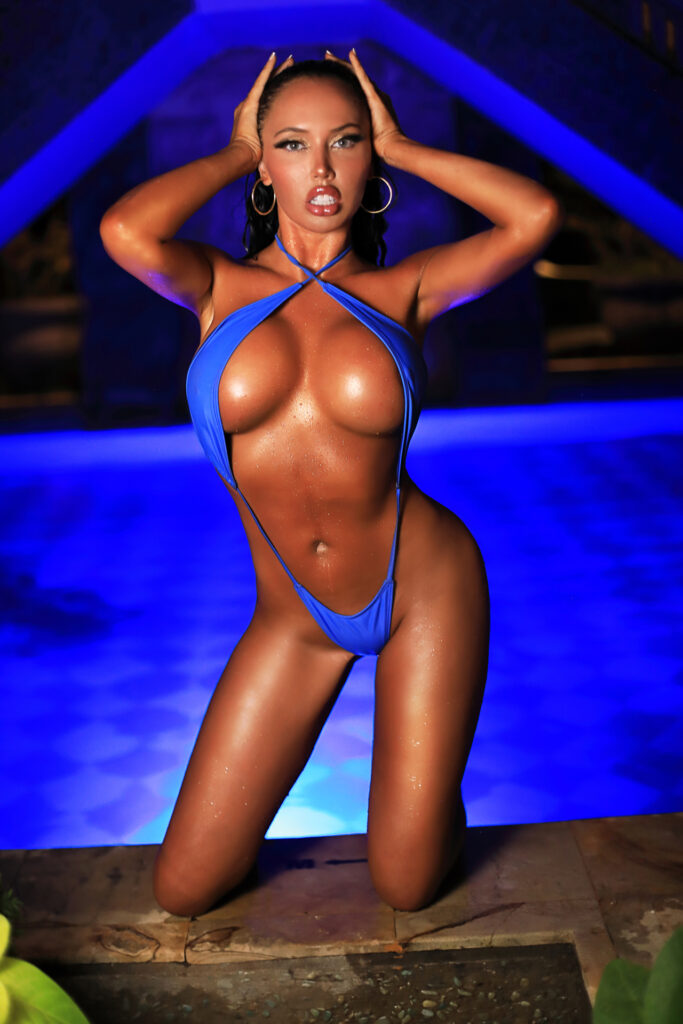 Given that you're a stunning woman who undoubtedly gets a lot of attention, what are some of the nicest things men have done to try and get your attention? Men have literally started physical altercations over trying to get my attention. I don't like that sort of stuff lol maybe it's all the testosterone.
What makes you feel absolutely sexy? What makes me feel absolutely sexy is having confidence and wearing no underwear.
Thank you so much for sitting down with us and congratulations on your new cover feature! Where can our readers follow you? Everyone can follow my Instagram @marieechev and my backup @marieechevx. I also just made a Twitter so follow me there @marieechevv, and on TikTok @marieechev.