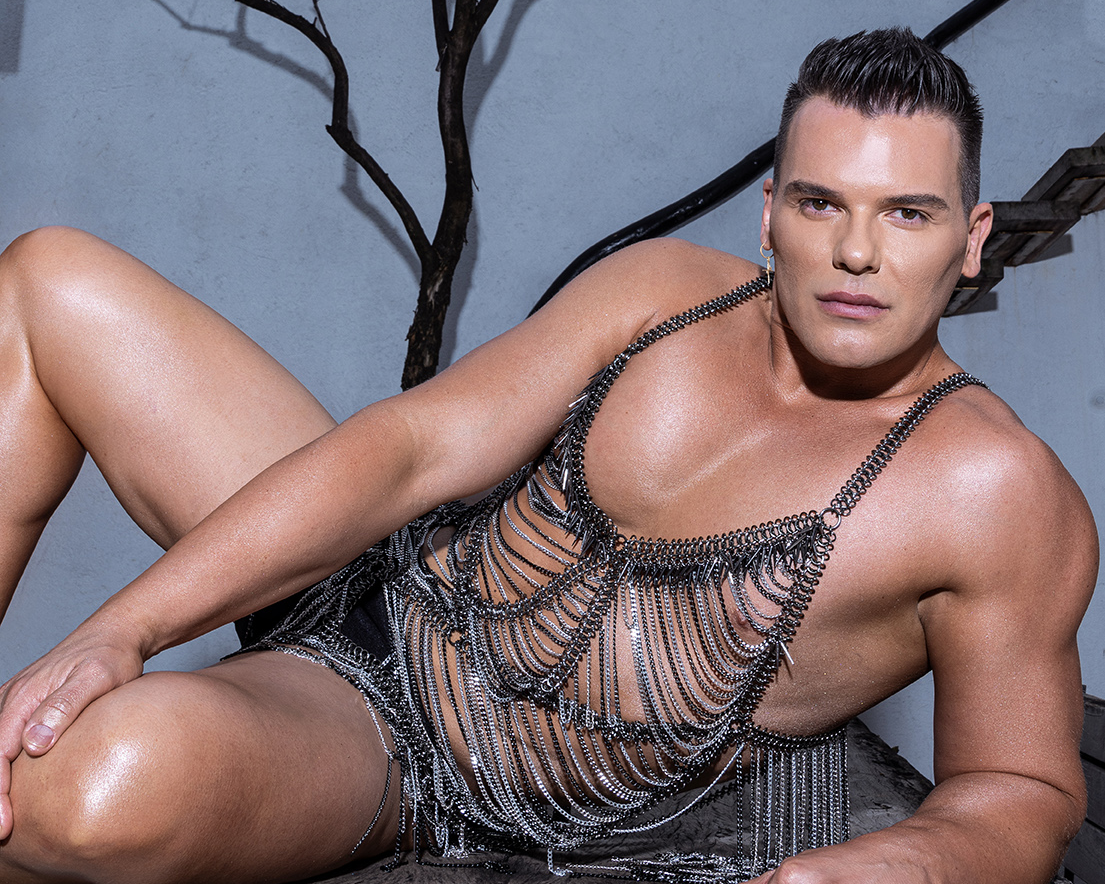 Israel Cassol / @israel.cassol
Photography by Glauber Bassi / @glauberbassi
Makeup by Hicaro Thales / @hicarothalesmake
Stylist Fazzioli / @fazziolijohn
PR by LA Media Group @la.mediagroup
---
Israel Cassol, born in Caxias do Sul, Brazil, is a model and fashionista considered the biggest collector of Birkin bags, from the Hermès brand, in the United Kingdom. His collection is valued at approximately half a million reais and the fact gained notoriety in several tabloids around the world. He has just made history by being the first Brazilian man to pose for an issue of Playboy. Owner of more than 13 Birkin's, Israel dictates androgynous fashion on social media and defends genderless fashion as well as an Activist, he also fights for environmental causes and has already made several iconic photo essays honoring nature or drawing attention to a criticism. An example of this was a VOGUE spotlight wearing a mask skirt. Investing in his career as a presenter, he managed to fulfill his dream of having his own television show in Brazil, on one of the largest open TV channels in the country. There he interviews London and Brazilian personalities, shows culture, fashion, and lifestyle, unfolding in various subjects. Overseas model and actor since the age of 21, Israel is also known for starring in two LGBTQ+ films in the UK, namely: The Cost of Love (2011) and Seeing Heaven (2010).
Israel is also known as a spokesperson for the men's health issue of andropause. Little publicized, he made a point of reporting his health experience and warning other men. His report was featured in media around the world.
---
Israel, we're happy to have you on the cover of Playboy, what does the Playboy brand represent to you? Playboy is one of the best-selling magazines in the world and to have me as the first Brazilian gay man onthe cover is an honor. Representing my community LGTBQ+ is important to me and it's a bigresponsibility too. It is great to see that Playboy is changing with society, it's fantastic for themagazine. Playboy is making my name history and it's a dream come through. Furthermore, I wouldlike to inspire people to follow their dreams because to be on the cover is a dream coming true.
We love your creativeness and bold work, more so the message behind it, can you tell us a bit more about what drives you, where it all comes from? Since I was young, I was suffering as a gay boy with bullying at school and I believe that every gayman at some point in their life suffering like me. To express myself with my clothes make me feelvery confident in my own skin. Modeling helped me to be comfortable with my own beauty andstrengths. When I started working as an influencer, I would like to work on issues that our planet isfacing. So then, I started developing clothes that could call attention to environmental issues andpeople's attention. Fashion has this power in society, but people have the power too to change the world.
So much passion and humility all in one package, we love it! Let's talk about the bags, what is the story behind these? I was looking for a bag to travel in 2015 but I couldn't find any bags that I like. So, I saw in the magazine a Birkin Bag. I was in love straight away, but I didn't know how hard it was to get my hands on it. Everybody knows how hard to get these bags. Fortunately, I did get a contact in Milan who helped me to get my first Birkin Bag. After that trip, I have starting to collect them. They are my lovers and I really enjoy carrying them around. It's very powerful for me as a male to carry a female bag. I really want to empower men that they can wear female bags, female clothes, whenever they feel like wearing them without people's judgment. We are in the 21st century and genderless is here to stay.
Your message is a powerful and strong one and we are sure there is an equally powerful story behind it all, what are some of the challenges you have faced breaking out into the industry as a male model? In the beginning, it wasn't easy for me. I left Brazil when I was 21 years old to work in Milan as aModel. I didn't speak English or Italian at all. But I always have been a guy who wants to learn newthings. The fashion industry was cruel sometimes. Crazy diets, alcohol, and long hours in showroomsto make a living. I was determined to not come back to Brazil. I was determined to succeed, and I did.I met important people in the fashion industry that help me a lot. I am so grateful for it. Being a gaymodel was hard sometimes because some people take advantage of us, particularly when you areyoung. However, I was strong enough to be focused and never gave up on the work. I always have inmind what I want to achieve, and I am almost there in 2022. Thank you, God!
What is a typical day like in the life of Israel? Well, I wake up around 7:30amI have my green juice first and my breakfast with bananas, protein and some oats to start my dayAround 11am I have my PT session and 12pm my lunchtime. Always focus on healthy foods.Love reading books, particularly stories about the 18th and 19th century and I can't finish my daywithout my afternoon tea where I learned with my British husband Rupert.Also, I like to include my daily rituals such as meditations, Reiki rituals, theta healing.Love going out for dinners with family and friends.That's one of my normal days (when I'm not working) .
What are some of the highlights of your career? I think the day I arrived in Milan was a great moment. It was my first opportunity I had in life to driveme to achieve my big dream. Working as an actor was a great experience too. But my biggestpleasure it was when I started recording for the show Empire Style on Band TV MG in 2020. Ofcourse, being on a cover of Playboy is now another highlight of my career.
What's on the cards for you this 2022? I have lots of things I want to do this year. Perhaps, my own show is a big dream it will happen, I amsure. I would love to appear in a reality show and show my personality and outfits. I would like tocontinue my work with actions to call attention to environmental issues and empower moregenderless on my social media. I will continue my TV show which expresses myself and continue mymessages to inspire people to follow their dreams.
Where can our readers catch up with your work? hey can follow me on YouTube and on TV SBT MG and TV da cidade of Joinville every Sunday at10am Brazil time.They can follow me on social media: Instagram @israel.cassol and TikTok @israel.cassol.
It's been an absolute pleasure catching up with you Israel, any last words for our readers out there? I would like to leave a message for the LGTBQI+. I would like to tell you that you must find help to identify your fears, your traumas and find a way to overcome these issues and accept yourself as you are.Always follow your dreams and never give up. There are lots of obstacles which it's necessary to grow in our lives. Be grateful for everything you have in your life. Be yourself, be focused, work hard so you will achieve all your dreams, and always believe in a powerful energy which some people call GOD, others, energy from the universe.Big kisses. IC.