Jodi Tia / @joditiahrtfitness
HMUA Bridget Martinez
---
Happy to have you feature on Playboy! Can you give us a bit of a background on your career as a model and where it all started? I have been modeling since my early 20s. It all started when I started competing in fitness competitions at the age of 21. I did 42 fitness competitions (76 titles in fitness, figure, bikini, and sports modeling). I got a lot of recognition as a natural competitor which led to a lot of nutrition companies offering me modeling gigs. I got featured in Muscle and Fitness when I was 21, and since then I have landed 6 magazine covers, featured in USA today, and now landing the cover of Playboy magazine, which is a dream come true!!
What are some of your best career highlights so far? Landing the cover of Playboy is my greatest accomplishment to date. This year has been good for me, I got featured in Maxim Australia in June, landed the cover of FHM Australia in August and landed the cover of several smaller publications. I am so grateful for all these amazing opportunities and excited for 2022.
Social media is a very powerful tool, given your massive following, what are some of the challenges you face when it comes to marketing your brand and maintaining a solid following? Just be You! You will get approached by many people making broken promises and trying to tell you how you should be or what you should do with your brand. Honestly, my best advice is to believe in yourself, work at it every day and just keep putting yourself out there.
Can you give us a breakdown of a typical day in the life of a glamourous model on set? Photoshoot days are my absolute favorite! I always come prepared with a lot of different outfits, accessories, ideas, and poses in mind. Regardless of what time the shoot is, I always start my day with a workout, a good breakfast, and lots of water. The day can get long so you want to come refreshed and looking your best!
What are some of the biggest misconceptions people have about what you do? I think landing the cover of any men's magazine people think you are in the adult scene, which is far from true. Women should look and feel sexy regardless of their career. I have wanted to land the cover of Playboy magazine for as long as I can remember. Some of the most iconic women in history are on the cover and I am so thankful to be a part of this legacy. 
Now we know there are some pretty perks that come with being a beautiful woman, what would say are your favorite ones? Be nice to everyone regardless of their status! I think people have a misconception that when you are attractive you are bitchy and mean. One of my greatest attributes is always staying humble, being nice to everyone and helping people out when you can. Nothing is more attractive than a pretty woman with a great soul.
Given that you're a stunning woman who undoubtedly gets a lot of attention, what are some of the nicest things men have done to try and get your attention? Before I met my soul mate, I had a long list of requirements to catch my attention. Obviously, you better be attractive, friendly, honest, hardworking, and want to be a part of my life. Chivalry goes a long way in my book!
What makes you feel absolutely sexy? Bikinis and lingerie.
I think I own more bikinis and lingerie than normal clothes!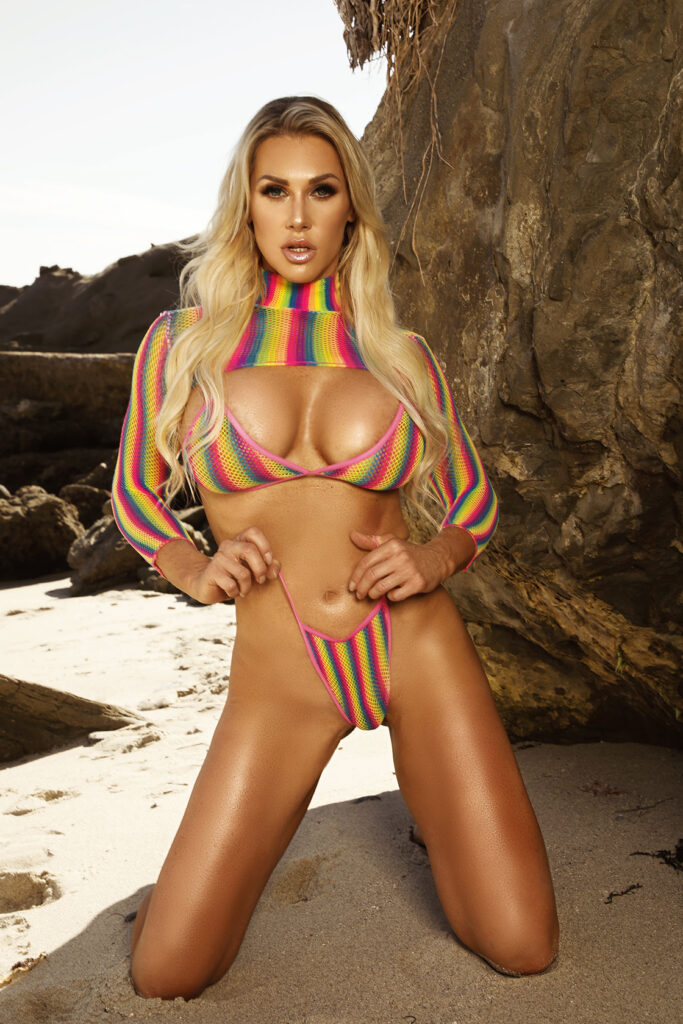 3 things that you can't go a day without? A workout, my kale salad and lots of water!
Anything exciting we should be on the lookout for coming through this year from you? I have so many things I am working on right now. I have a lot of modeling work lined up for 2022 already and I am going to keep expanding my body sculpting/body contouring business. I want to take my certification program nationwide and help as many women as possible start their own businesses. I am also the very first Miss Bikini US Nevada director and am going to be putting on the first Las Vegas pageant in the spring of 2022, so I am very excited and looking forward to an amazing 2022.
Where can our readers find out more about you and stay updated with your current events and adventures? Facebook at Jodi Tiahrt ModelingInstagram @joditiahrtfitness andBusiness IG @snatchedbyjodi.
Thank you so much for sitting down with us and letting us get to know you! Any last words for our readers out there? A huge thank you to the dream team, Ryan Dwyer, Luis Rodriguez and Bridget Martinez for making my dreams come true! You guys are amazing and created such an amazing and flawless shoot, I am forever grateful and thankful!