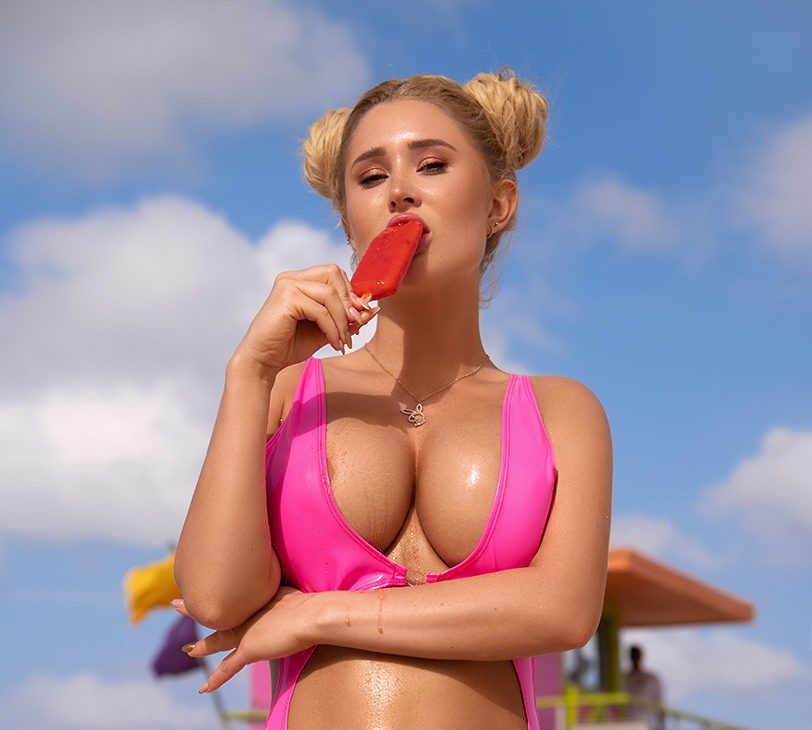 with Melisa Gun / @drmelisagunn
Photography by Olga Novikova / @olga_novikova_work
MUA: Juliana / @mymakeupmiami
Stylist: @pzhouston
PR: LA Media Group / @la.mediagroup
---
Happy to have you feature on Playboy! Can you give us a bit of a background on your career as a model and where it all started? Ever since I was a little girl, I wanted to become a model, but by the age of 18 this dream became a reality! It all started with my collaboration with the Ukrainian magazine "Playboy", and it still continues (with a smile). Defile and trying on outfits assigned to the show; preparation for photography, posing in front of the camera and staying in shape. I am literally living it. Now I can say with confidence that I enjoy my job!
What are some of your best career highlights so far? I think that it is too early to talk about achievements, but I am moving towards them, getting closer and closer every day. In secret: today I have everything I want and what I dreamed about earlier.
Social media is a very powerful tool, given your massive following, what are some of the challenges you face when it comes to marketing your brand and maintaining a solid following? In developing my account, I strive for quality, not quantity. However, I get hundreds of likes and followings all the time. My blog on Instagram helps me to become recognizable and collaborate with various brands of cosmetics, clothing, as well as world-famous publications and designers.
Can you give us a breakdown of a typical day in the life of a glamourous model on set? When working, I have interesting and eventful days: makeup, fitting, preparation for shooting, shooting itself. If we talk about the glamorous side of the modeling business, then this is undoubtedly life in front of the cameras flashing and crowds of adoring public Also stellar parties, luxury hotels, and limousines. Useful acquaintances with businessmen, artists, and even politicians are obligatory companions of all fashionable parties.
What are some of the biggest misconceptions people have about what you do? Perhaps the most common stereotypes are: models are superficial and uneducated girls; models eat nothing. But believe me, in order to become a model, you first of all have to be a person, that's why the lack of education and a careless attitude to your body are automatically excluded.
Now we know there are some pretty perks that come with being a beautiful woman, what would say are your favorite ones? Of course, female beauty has many advantages: it is easier to get a job, as well as build relationships with a decent man. A woman's beauty and sexuality attract many persons and this is a good weapon. And if intelligence, talent, a beautiful body, a little cunning and an obstinate character are attached to this – you'll be a valuable person!
Given that you're a stunning woman who undoubtedly gets a lot of attention, what are some of the nicest things men have done to try and get your attention? How do men attract my attention? These are expensive gifts, restaurants, journeys! I only meet status and influential men. To get my attention, a man must be educated, generous, confident and successful in his business. There is a nice phrase: "You're applying – be up to it!"
What makes you feel absolutely sexy? I feel sexy all the time. It sounds immodest, but it is. I have a slender and lean body, because I devote a lot of time to it. This is accompanied by a medical education and a lot of hobbies. I know what femininity is and how to present it to a man and everyone around him properly. I love and respect myself. All of these together help me feel sexy.
3 things that you can't go a day without? To be a successful and in-demand model, you need to сare of yourself 24 hours a day. So, the first thing on my list is the gym. The second and third points are rather the components of a happy life: family and love.
Anything exciting we should be on the lookout for coming through this year from you? When we talk about femininity, the first thing I think about is beautiful underwear. Therefore, in the near future, I am planning to establish my own brand of lingerie. Today I am serious about it – probably because it took me too long to get there. Also, I'm planning to become the ambassador of the popular sexy lingerie from Honey Birdette!
Where can our readers find out more about you and stay updated with your current events and adventures? I am active on my Instagram. There I talk about what is happening in my life, I share publications of interviews and filming from various magazines. I also touch on women's topics and write inspirational posts.
Thank you so much for sitting down with us and letting us get to know you! Any last words for our readers out there? In conclusion: I would like to wish all women to love themselves, develop, take care of their bodies. And then you will be admired. Not for how you look, but for who you are!