Leah Schrager's Naked Body and James Bond Inspire Her New Art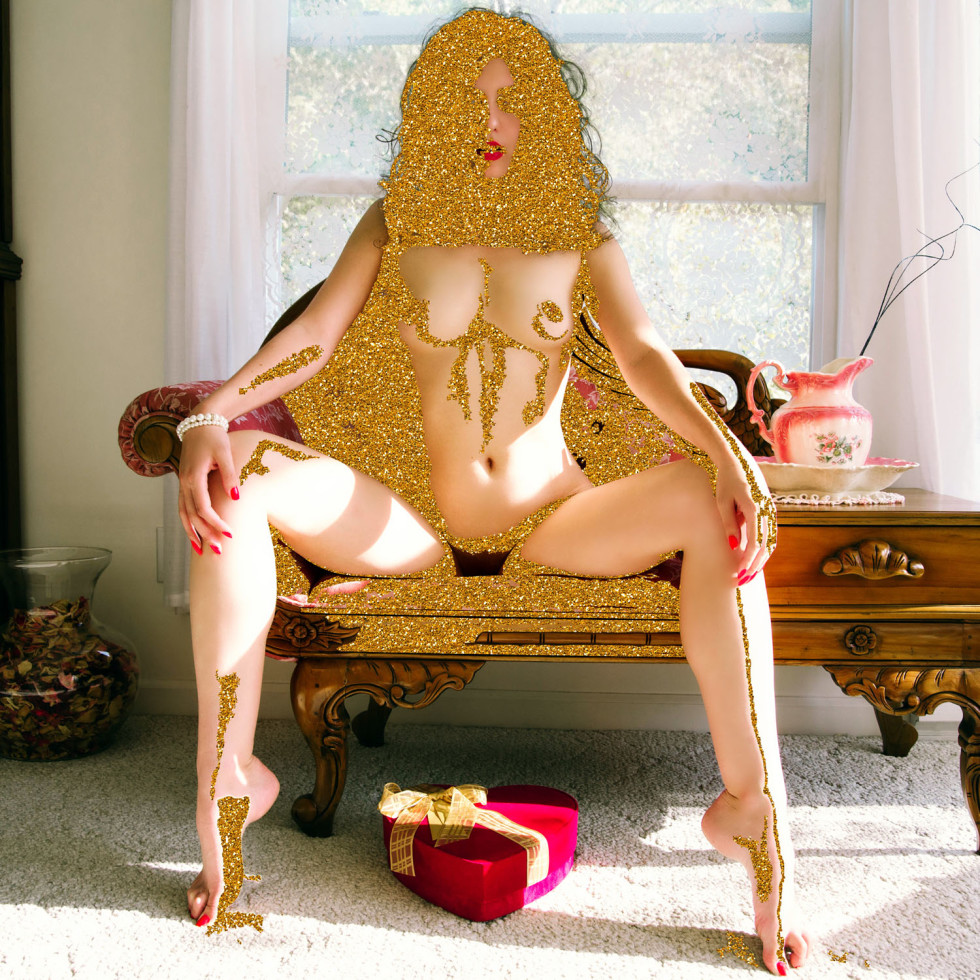 If you're a loyal Playboy reader, Leah Schrager may look familiar— and that's because we've featured her as a Playboy Muse. Schrager is one of those rare birds who managed a smooth transition from being in front of the lens–as a model and dancer–to going behind the lens as a photographer. In 2010, she began to focus on photography as a way to gain control of her own image. She saw other artists using pictures of models and celebrities in their art, and asked herself, "What if I could self-appropriate my image? What if I could be the model and the artist and the photographer in my work? What kind of artwork would I make?"
Now, Schrager has a new exhibit, The Goldfinger Suite, showing in a Miami hotel next week as part of Aqua Art Miami, a satellite art fair of Art Basel. The six works, previewed here, feature Schrager herself. They were inspired by the scene in the 1964 James Bond film Goldfinger where Jill Masterson is found dead. Schrager says, "I was interested in this image of Jill Masterson being murdered by being painted gold. It's terrible and beautiful. In the movie, she's breaking from what's expected of her. As a result, it's assumed she has a very fun time, but she also pays the consequences for it." The scene got Schrager thinking about what women are and aren't allowed to do, and what price they have to pay.
In the movie Goldfinger, Jill Masterson dies of something called "skin suffocation." When the scene was filmed in the early 1960s, people believed that human skin needed to breathe, so if a person's skin was entirely covered in a substance like gold paint, she would die. That idea of skin's importance is reflected in Schrager's work. "The skin is on one hand, freeing and powerful, and on the other hand, self-destructive and dangerous," she says. Masterson hooks up with Bond, and she's metaphorically slut-shamed for it. To make The Goldfinger Suite, Schrager re-imagined Masterson's character, depicting the three stages of her encounter with Bond—"The Engagement," "The Gift" and "Completion."
Schrager's previous work includes a 2016 series called Infinity Selfie (or SFSM – Safe for Social Media), and an ongoing experiment with celebrity built around her alter-ego, Ona, a skin-baring Instagrammer with more than 1.2 million followers. Schrager says the social media site puts her in a creative mood, and that she'll often scroll through it before she sits down to make work. "I'm very inspired by it. There's a lot of art on Instagram, and there are a lot of different niches and places that collide," she says.
Many of Schrager's images, like the ones in The Goldfinger Suite, include her own nude body. She's proud to be bringing an element of sexiness to the scene around Art Basel, explaining, "Art Basel itself is pretty asexual. That's always bothered me a little. Why can't women who are sexy be art, too? Sometimes if men are presenting them, they can be considered art, but they can only go so far, and it's always—in all the examples I've seen—presented by men. My thing is, why can't a woman do it? Why can't she present it herself?"
Most of her work is digital, even the gold leaf featured in her latest images. She says, "I did do some material works that had gold leaf in them, but it didn't quite get the look I wanted." To get the right effect, she had to add the leaf digitally. She's happy to be showing The Goldfinger Suite in Miami, since that's where the original Goldfinger scene was set. She says, "It's actually in a hotel, and there's a really nice courtyard, so you can have a martini and walk around and see the art." If you're going to see Schrager's James Bond-inspired images, be sure that martini is a vodka one, shaken not stirred.
Leah Schrager's The Goldfinger Suite is part of a group exhibition with ArtHelix Galleryin Room #226 at Aqua Art Miami 2017, at 1530 Collins Avenue in Miami Beach. It's open to the public between Thursday, December 7, and Sunday, December 10.